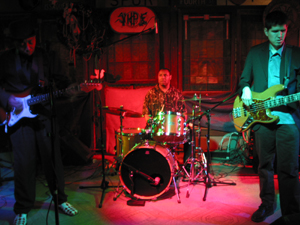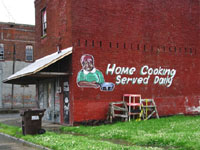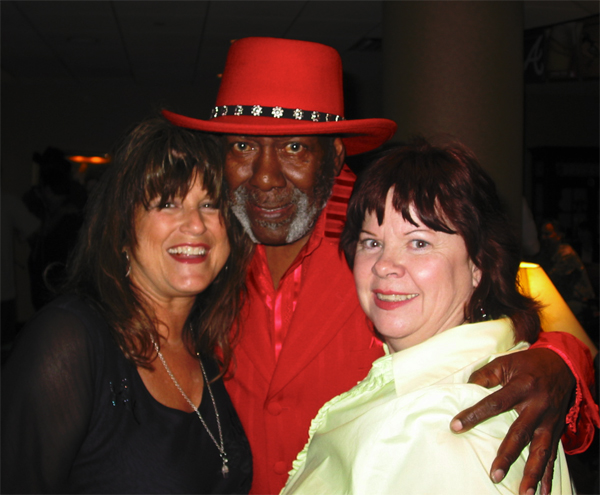 (links are underlined)

This was my 2nd Handy trip. These a a few shots from my 2004 trip for the 25th W.C. Handy Awards week. My pal and associate Cheryl and I had a tremendous time in the Delta ... Memphis, Beale Street, Sun Studios Stax Records Museum, the Rock N soul Museum...and, at a friends request, we even wrote her name in long-lasting lipstick (HA!) on the wall outside of Graceland. We got to witness the filming of "Blues Divas" at Morgan Freeman's club ground Zero in Clarksdale, MS and took pics at the mural wall and visited the Delta Cultural Museum grand opening in Helena, AR..We made fine strides meeting and greeting artists, promoters, music lovers, the Blues Foundation staff, and a wide variety of folks that live, work and play in the Delta. Of course I took advantage and got a few vocal licks in when the timing was right. Click on the "Album" link in lefthand column to see more great shots.
PHOTOS Above Clockwise:

s Michele and good pal Cheryl O'Grady with Handy Nominee,  Sonny Rhodes the "Disciple of the Blues" aka  the "Sheik of Oakland"
s Delta BBQ Juke Joint in Helena, AK

s E.C. Scott the "Empress of The Blues and "Female Soul-Blues Artist"  Handy Nominee caught backstage at the Handy's  before her powerhouse performance
s Billy Gibson blows harp at Rum Boogie Cafe during Handy weekend in Memphis 04
All Photos by: Michele Lundeen

except where noted..

Please do not reproduce without credit

DELTA TRIP 04 W.C. Handy weekend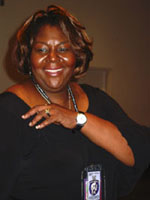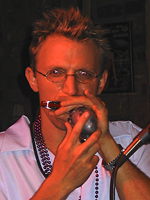 DELTA TRIP 05 W.C. Handy weekend

(links are underlined)

In May 2005 I made my 3rd journey back to Memphis, TN to witness the W.C. Handy Awards. Not only am I a singer/songwriter,

but also a Blues Editor for two Blues publications. One of those is the Blues Festival Guide print magazine and once again this year my Publisher sent myself and an associate (who also happens to be one of my dearest, longtime pals), Cheryl O'Grady from Reno, NV, to the Delta for the 26th W.C. Handy Awards.
PHOTOS  Clockwise:

s 90+ Pinetop Perkins "the man" of the Handy's

s Michele and Bobby Rush sharing a moment!

Photo Cheryl O'Grady

s "Cleavage" lineup w-Cheryl, Janiva Magness & Michele backstage at the Handy's (photo Kay Novick)

s Handy winner Charlie Musselwhite holding the     Blues Festival Guide that features his recipe

s Bluesmen Guitar Shorty & Kenny Neal

s Reviewer Peter "Blewzzman" Lauro & Michele

Photo Cheryl O'Grady

s Cathead Music & Art store in Clarksdale, MS

s Michael Powers - Handy nominee for "Best New Artist Debut" performing at Handy's

s Michael Powers Band warming up at Hopson Commissary in Clarksdale, MS

s Johnny "V" Vernazza & Michele at Handy's